Top PPE Firm's £25,000 Boost For School Science
Mask manufacturer donates 'thank-you' cash to nine schools across Dumfries and Galloway for their assistance during COVID-19 pandemic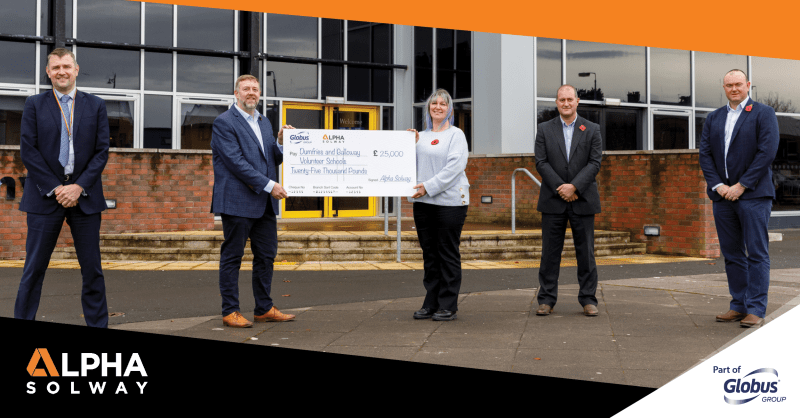 Leading PPE manufacturer Alpha Solway, part of the Globus Group, has presented a £25,000 donation to nine schools in the Dumfries and Galloway area, to pay for new science equipment.
The funds are a 'thank you' for the vital part the schools played in producing essential PPE supplies being manufactured for frontline NHS professionals across Scotland.
Led by Ghislaine Duncan, School Technician Coordinator at Dumfries and Galloway Council, teaching and science support staff at the schools have been working closely with Alpha Solway during the COVID-19 pandemic.
Approximately 20 staff, scientists, and technicians from across the nine schools volunteered to take part and used the chemistry department at the Annan Academy to help prepare Bitrex, a solution which is crucial for ensuring that respiratory protective equipment safe to use. 
Bitrex (denatonium benzoate) – the most bitter compound known to man – is sprayed on PPE masks to test that they are fit for purpose. It is so bitter that anyone tasting it through a mask would immediately know the facial equipment could be penetrated and therefore was not safe. It is commonly used as a safety additive to deter children from swallowing household products.
Ms Duncan, said: "It is fantastic for the schools to have received this generous donation from Alpha Solway. Our team of volunteers have been working incredibly hard during the pandemic, but I know that they are thrilled to have been able to help NHS Scotland healthcare workers through this partnership with Alpha Solway. The new science department equipment will be a transformative resource for students for years to come, and will hopefully help to inspire our next generation of scientists."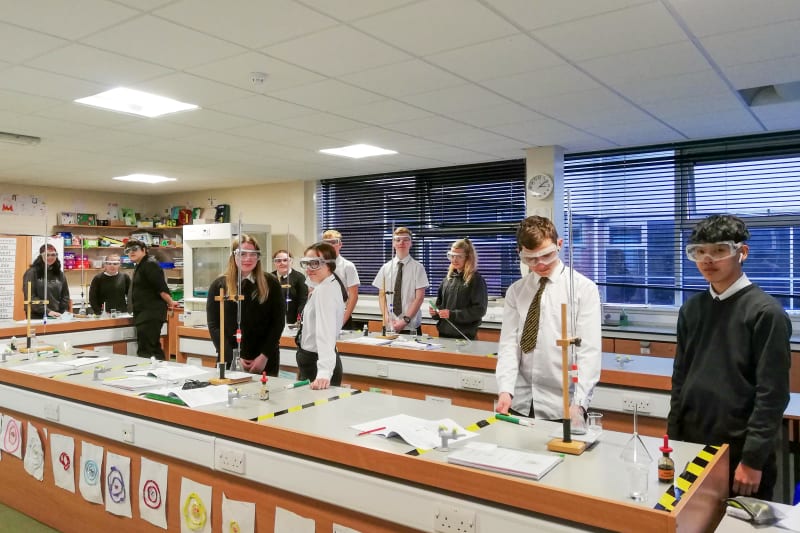 Although Alpha Solway had a good supply of Bitrex before the COVID-19 outbreak, the massive increase in demand for PPE meant that supplies were quickly in danger of being used up. Shortages of the Bitrex solution would have resulted in delays in getting the vital PPE out to NHS staff.
Alpha Solway is part of Globus Group, which has over 25 years of history producing PPE equipment for healthcare and industry.
Steven Binnie, Director at Globus Group, said: "We are thrilled to be able to present this donation to these schools, who have given us such invaluable support throughout the COVID-19 pandemic. Their generous help has allowed us to provide more critical PPE products to frontline healthcare workers, and it is a great example of the community spirit we have seen across the region at this difficult time."
Chemistry loving Dumfries mum and daughter Julie and Annabel MacGregor were amongst those who worked on the Bitrex project. Julie, principal teacher for science and technology at St Joseph's College, enlisted 20-year-old Annabel, who is a former St Joseph's pupil now in the second year of a chemistry degree at Edinburgh University, to help.
Julie said: "We all volunteered to put our chemistry skills to some good use to help fight the spread of the coronavirus and it felt good to be able to help the NHS and other frontline workers."
Alpha Solway has been producing large quantities of FFP3 face masks, which offer the highest level of protection against viruses and bacteria, throughout the pandemic, and has recently signed a £53 million contract with NHS Scotland, which will include a further six million FFP3 masks. Before these masks can be used by NHS healthcare workers, they must be fit tested to ensure that they are providing the correct level of protection. The Bitrex solution prepared by the school volunteers is a crucial element of respirator mask fit testing.
Alpha Solway has been working closely with NHS Scotland throughout 2020 to ensure adequate supplies of PPE for its healthcare staff. In recognition of the extraordinary work of NHS Scotland staff, social care staff and carers in responding to the) pandemic, Alpha Solway has sponsored a new 'People's Choice' award at the Scottish Health Awards 2020. This award will be voted for by the public, and will recognise people who have worked tirelessly and have gone above and beyond to provide the very best care for the people of Scotland in their greatest time of need.
***ENDS***
About Globus Group
Globus Group has over a 25 year track record in PPE and is one of the world's fastest growing manufacturers and distributors of global worker safety solutions for Hand Protection, Safety Eyewear, Hearing Protection and Respiratory Protection.
About Alpha Solway
Alpha Solway, part of the Globus Group, is based in Annan, Dumfriesshire and manufactures a range of PPE products including protective clothing and disposable respirators. Our products are sold all over the world and protect people at work on a daily basis.