Scottish PPE firm Alpha Solway honour NHS Scotland heroes with new 'People's Choice' award
Leading Scottish PPE firm Alpha Solway is to honour NHS Scotland's unsung heroes of the Covid 19 pandemic.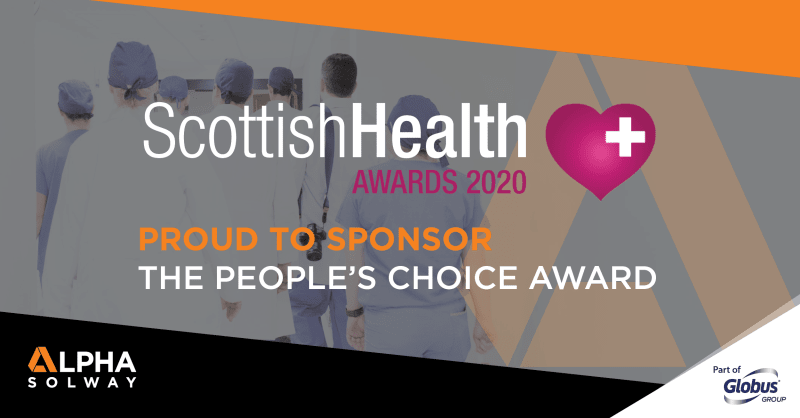 The safety equipment manufacturer, part of the Globus Group, will be celebrating the extraordinary work of NHS Scotland staff, social care staff and carers in responding to coronavirus with their 'People's Choice' award at the Scottish Health Awards. Seven finalists have been selected, and the winner of a public vote will be announced on 9th December 2020.
Lisa Lynas from the Scottish Health Awards comments, "Alpha Solway were the perfect choice to sponsor our new People's Choice award. They have been supporting NHS Scotland and healthcare workers throughout the pandemic, and have moved even more of their manufacturing to Scotland this year, creating hundreds of new jobs. This award is recognising the excellence and dedication of Scotland's healthcare workers, so it made sense for us to partner with a Scottish company that is so committed to our healthcare system."
Operations Director, Sherree Gracie, comments, "We are thrilled to be able to show our support and appreciation for the incredible responses to the COVID-19 pandemic from NHS Scotland workers across the country. All of our finalists have demonstrated truly outstanding dedication and commitment to caring for their communities at this difficult time."
She continues, "Alpha Solway has been proud to support NHS Scotland throughout the pandemic, and thanks to a £53 million contract announced by Nicola Sturgeon in August, we are going to meet the PPE demand for Scotland's health and social care sectors until Summer 2021."
The seven finalists range from an acute medicine consultant in Glasgow to a student nurse in Forth valley to a care support team serving 23 inhabited islands. (full details and pictures attached below)
Alpha Solway is part of the Globus Group which has over a 25 year history of producing PPE equipment for healthcare and industry.
Alpha Solway has been producing large quantities of high-quality FFP3 face masks, which offer the highest level of protection against viruses and bacteria, at its Scottish factories in Dumfriesshire throughout the pandemic. It has also recently signed a £53 million contract with NHS Scotland, which will include a further six million FFP3 masks, as well as 232 million surgical masks and 2 million visors.
Commenting on the Alpha Solway NHS Scotland contract, the Minister for Trade, Investment and Innovation Ivan McKee said, "This is fantastic news for Dumfriesshire and for NHS Scotland. It is great that this substantial PPE order will be supplied by Scottish firm Alpha Solway."
"It delivers significant savings to the NHS as well as supporting vital jobs – both at Alpha Solway and at other Scottish businesses in their supply chain - and demonstrates that Scottish business is cost competitive on a global stage."
"The order also highlights that the proactive work undertaken during lockdown to bolster the COVID-19 supply chain is continuing to deliver real benefits in the form of higher employment, increased manufacturing activity and savings for our NHS."
***ENDS***
About Globus Group
Globus Group has over a 25 year track record in PPE and is one of the world's fastest growing manufacturers and distributors of global worker safety solutions for Hand Protection, Safety Eyewear, Head Protection, Hearing Protection and Respiratory Protection.
About Alpha Solway
Alpha Solway, part of the Globus Group, is a UK-based manufacturer and supplier of world-class respiratory protection, eye protection, hearing protection, head protection and protective clothing solutions. Our products are sold all over the world and protect people at work on a daily basis.
THE SHORTLIST: (PIX AVAILABLE)
Kidney doctor Mun Woo realised how vulnerable the 60 patients were who came to Inverclyde Royal Hospital's renal unit for dialysis three times a week. When there was a coronavirus outbreak among her patients, she led the way in rapidly setting up vital measures to limit the spread of the disease among patients and staff.
Forth Valley student nurse/healthcare assistant Jade Scott who has given her all to help during the pandemic stepping up to work full-time in a care home.
Carol Scott, a community healthcare support worker at Larkhall Health Institute, Lanarkshire volunteered to support patients moving from acute care to an intermediate care facility until they were ready to go home. Working 12-hour shifts despite caring for her mother, recently losing her father, and her partner being in recovery from cancer, Carol made sure patients were safe and well cared for.  She contracted COVID-19 and was extremely ill but kept in contact with colleagues through text and email despite being in isolation and unable to care for her mother. Once recovered, she went straight back to work.
More than 40 local volunteers from Port and Sandwick Trust, in the Western Isles deliver a crucial befriending and meal delivery service to vulnerable people living in the remote villages on the Isle of Lewis. Without their caring and hard work, many people in Point and Sandwick would have struggled to source food, eat a hot meal and fight loneliness because of lockdown. By the end of September, 5110 freshly cooked meals prepared by a local chef and 3,373 emergency food parcels were delivered to people in 260 households.
The Medical Physics team at Forth Valley Royal Hospital recognised the demands of COVID-19 made it necessary for the hospital to provide a fixed facility for renal treatments within its ICU to provide a longer term and enhanced renal care. The team adapted existing medical equipment to provide continuing care for renal patients. They also converted anaesthetic machines normally used in operating theatres to ventilators so they could be used to help patients with COVID-19.
The Argyll and Bute Caring for People partnership, made up of the local Public Health team, Argyll and Bute Council colleagues and the Third Sector Interface, was formed to coordinate urgent community response to the COVID-19 pandemic. With 23 inhabited islands and 43 per cent of the population living in remote and rural areas, it can be difficult to make sure everyone in Argyll & Bute has access to health and community services – and even harder during lockdown. A community response, which made sure more than 3,000 vulnerable people still had access to food, support, medicine, and other supplies, became vital.
Dr Pauline Grose, consultant in acute medicine at Glasgow Royal Infirmary demonstrated incredible dedication and selflessness in setting up and leading a COVID-19 high dependency in Glasgow Royal Infirmary during the first wave of the coronavirus pandemic. When the scale of the anticipated challenges became apparent, she went from working part-time to working more than full time to lead the transformation of the coronary care unit. During the first wave of COVID-19, Glasgow Royal Infirmary had the second-highest number of admissions with COVID-19 in Scotland. The high dependency unit that Pauline helped set up treated more patients with non- invasive ventilation than the rest of the country combined.